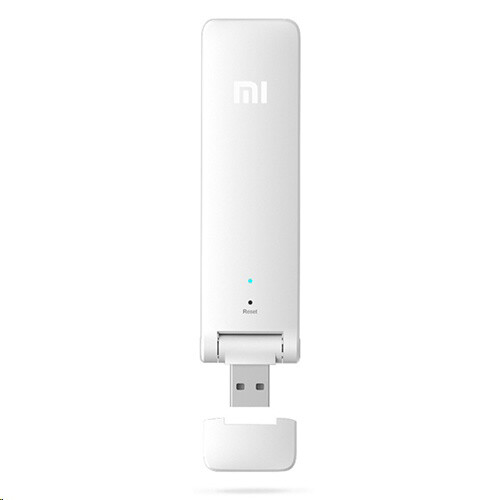 Xiaomi Mi WiFi Repeater 2 - 300Mbps Wi-Fi Range Extender (Wi-Fi Booster)
SKU 00004
Product Details
IN STOCK NOW - READY TO SEND!

FAST DELIVERY! (1-2 Business Days)
Product Description
The Xiaomi Mi Wi-Fi Repeater 2 is designed to extend Wi-Fi coverage and strengthen the signal of an existing wireless network. With up to 300Mbps speed and built-in dual antennas, it eliminates Wi-Fi dead zones to ensure that you enjoy seamless HD streaming and online gaming everywhere. The Xiaomi Mi Wi-Fi Repeater 2 is light-weight and compact in size which makes it easy to carry everywhere. Installation is extremely easy with 2 simple steps, which is widely compatible with other brand routers.
Features
- Delivering Wi-Fi up to 300Mbps, share the Wi-Fi throughout your home.
- 180°rotation USB port saves space and is easy to adjust.
- Widely compatible with standard third-party routers.
- Easy to install via 2 steps, auto pairing.
- Mini size and stylish appearance.
Specifications
- Brand: Xiaomi
- Colour: White
- Interface: USB2.0
- Transmission rate: 300Mbps
- Antenna: Built-in
- Wi-Fi Network Frequency: 2.4GHz
- Item size: 120 * 30 * 9mm / 4.72 * 1.18 * 0.35in (L * W * H)
- Package size: Approx. 17 * 5 * 2cm / 5.1 * 2.6 * 0.8in (L * W * H)
- Package weight: Approx. 88g
What's in the box?
1 x WiFi Repeater 2
How to Setup Mi WiFi Repeater 2?
Download the Mi Home app from Google Play or Apple App Store

Open Mi Home App on your smartphone

Read and agree with Terms & Conditions. Select the region as India
Tap on Sign in and enter your existing Mi account Username and Password. If you don't have the Mi account click on Sign Up and Create a new Mi account

Plugin the Xiaomi Mi Wi-Fi repeater to a power source. Note that this device comes with a USB port so you'll have to connect it a powerbank or use any standard USB power adapter (like a phone charger). Once the device powers up, Yellow LED will start glowing at the rear side of the device

Tap on Add Device
Select your Mi WiFi Repeater

Now, select your WiFi network. Make sure your Primary WiFi router is turned on and WiFi light is glowing on it.

Enter the Password and Select OK
Tap on Next
If the entered password is right, the Repeater will connect to your existing WiFi Router and you'll receive a message saying 'Device added'. This process will take a few seconds
Tap on Done

Now select your device location such as Bedroom, Kitchen etc. This step is Optional

Tap on Use Now to complete the process. The Blue status light on your Repeater indicates that the repeater is ready for use
The WiFi ID (SSID) of your Repeater will end with _plus. The password for the network will remain same as your Router

Now exit the MiHome app and connect your devices to ending with _plus network
Save this product for later
A WORLD OF ENTERTAINMENT WITH ANDROID™
Experience the Android™ operating system on your TV in full High Definition with absolutely no limitations and no restrictions at all.  With over 800 000 apps and growing, you'll never run out of options.
STREAM AMAZING CONTENT ONLINE
Watch what YOU want, when YOU want to watch it. No ad breaks, no nonsense, just pure entertainment. Choose to stream from a multitude of video content providers giving you access to thousands of Movies, TV Series, Live TV and Sports. Whether you prefer YouTube, Netflix, Showmax, DStv Now, Kodi or any other streaming service, the choice is completely up to you. 
ACCESS YOUR MEDIA FILES OFFLINE
With our Android TV Boxes, you are in no way limited to online content only. Our TV Boxes serve as media players as well, which means you can simply plug in your external hardrive, flash drive or SD memory card and enjoy all of your media files offline. Music, pictures, videos, movies, our TV Boxes can play them all!
BROWSE THE WEB FROM YOUR TV
Ever wanted to browse the internet on the big screen? Well now you can. Simply download and install your preferred web browser application like Google Chrome, Opera Mini or Firefox. Connect your wireless mouse and keyboard, and let the browsing begin. Deliver the web from your living room in High Definition. 
I got Android TV Boxes SA's details on the Internet, Gareth was the first to help me, his answers and responses were fast and direct. I paid electronically and sent the proof of purchase with my address for delivery. He immediately replied back and the TV box was sent to me by courier.
Aramex the courier service, supplied me immediately with a tracking number, and the next morning my present was delivered at my front door in Bloemfontein.
The M8S Android TV box was easy to setup, and the installation worked perfectly.
Thanks Gareth and Aramex for making this journey to Android TV so pleasant.
Hein Arpin, Bloemfontein
Excellent turn around time, fast, friendly and efficient. Less than 24 hour delivery. Highly recommended. All purchased items nicely packaged and in perfect condition
I have 2 EM92 boxes, both with MX3 Air Mouse and Keyboard. Both were delivered the next morning after payment was done. Incredible great service and backup. Thanks Gareth.
Really amazed at how efficient your service is, order received in less than 24 hrs. Well done Gareth, glad to find that there are companies out there that exceed ones expectations.
"I was really pleasantly surprised by my "online shopping experience" shopping for An Android TV Box on your website.
I would like to thank and congratulate you and your team for exceeding my expectations.
I placed my order in Johannesburg on Wednesday morning and received the order (exactly as expected) the very next morning.
Well done in many thanks !"
Excellent service, fast and professional. Thank you Gareth.
Well done for the speedy service. Aramex delivered to my door this morning, and it is in and working fantastic!
The MQX android box is brilliant for the cost and size. Scrolling difficulties with the air-mouse in certain apps (therein lies to deduction from full marks). The service from the company - outstanding! The least impressive part was the website, and there's nothing wrong there at all. The most impressive if the responsiveness and turn around times. Truly first world and a testiment to the fact that these things can be done, and are done when the company values their customers, both new and established relationships. If you find the products cheaper, spend the little extra to use these chaps. Well worth the investment for the support and professionalism enjoyed.
This is the second time i have bought an Android box + air remote from Gareth and he is polite efficient and helpful.
Box was delivered the next day by 9am in the morning at my office. Highly recommend to anyone.
"Great service, super-fast delivery and a pleasure to do business with. Highly recommended."
Just wanted to say I got the stuff as you promised this morning. Thank you very much and i will surely spread the word and refer people to you.
Thank you for the speedy reply and great service. I would definetly do business with u again and give u a 10 rating. Thank u again
Thanks for the quick delivery of my EM92. Product is fantastic. Thanks
I had hardly paid and i received confirmation that the product had shipped, with it's tracking number. The next morning at the crack of dawn the shipment arrived. Outstanding. The MXQ Next is excellent. If you buy this product, spend the extra money and buy the air mouse. The remote that comes in the box is rubbish. Only criticisim is that it was only supplied with an American power plug and i had to source an adapter. (Apologies for this mistake Andrew- Android TV Boxes SA)
"I am amazed to see a company still exists that gives impeccable service . I overheard a friend talking about a great product he had just purchased
It was the Android TV box. I decided to get myself one, got on line made the purchase and boom the very next morning before 8am it was in my hands.
Well done guys much appreciated."
Ordered an M8S device. Delivery was the next day. Nice product which works well. Needed a keyboard and mouse for the device so I ordered the Rii i8 keyboard a month later (What a nice product!! ). Again brilliant service with next day delivery.
This is the way it should be done.
I will recommend both the product and the service to anyone.
Just a note. If the device does not have a keyboard/mouse with it, order one. The remote alone is not really sufficient and that is the ONLY reason for not giving 5 stars.
"Android TV Boxes SA
Had stock and delivery was prompt.
Very satisfied with purchase and works as described."
Dwaine d'Hotman de Villiers
"I highly recommend Android TV boxes SA, I found the ordering and follow up reassuring, delivery was quick and service excellent, my friends and family have also enjoyed the same service.
A pleasure to do business with you, well done"
"I purchased the MXQ and it truly turned my t.v into a SMART t.v. I've been blown away by the endless content I never even knew existed out there. The quad core processor handles pretty well what most smart t.v's fail to do. Overall, Im very impressed, and encourage those wanting to convert the tv to a smart one without breaking the bank with one of these nifty devices"
Excellent advice and service from Gareth. My order was delivered the very next day. And the box works brilliantly. I can highly recommend the Xiaomi Mi Box. After trying multiple other boxes, i finally came across Android TV Boxes South Africa. Gareth recommended the Mi box and it works brilliant. It;s the only box that worked fully with DSTV now.
i ordered the Xiaomi mi tv box. Delivery was the very next day. The product is excellent and DSTV NOW and Netflix work fantastically. I can highly recommend.
BE THE FIRST TO KNOW
Get all the latest information on sales, offers and exclusive insights on all things streaming. Sign up for our newsletter today!